SPONSOR A CHILD'S EDUCATION IN NAMIBIA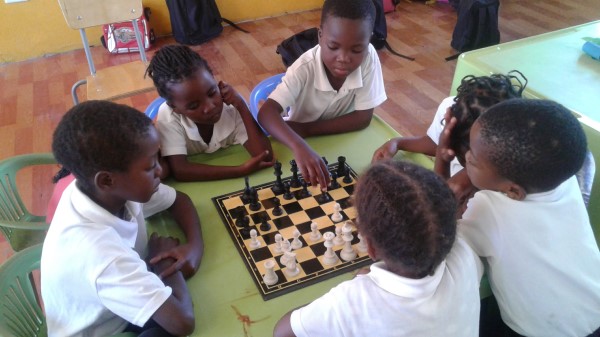 You can help make a child's dream come true...
Northern Namibia faces many challenges, one of them being the difficulty for families of children to afford a good education which ultimately is the tool to self empowerment.
Gems Field is located strategically in one of many such regions challenged by economic desparity and inaccessibility to education, and invites you to sponsor a child to be able to attend school.
How it works:
For a monthly donation of USD$65.00, or as a full year one-time payment of USD$780.00, you are supplying all the necessary ingredients for a child aged between 4 and 10 years old, to attend school at Gems Field. The exact allocation of the funds divided among the services rendered to the child is as follows:
$50.00 for Teacher and Educational Assistant salaries
$8.00 for school related costs including photocopy ink and paper, stationery, and government regulatory costs
$7.00 for student textbooks
What you get as a sponsor:
Besides experiencing the ultimate satisfaction that you are making a massively positive difference in building a future for a child in Namibia, Gems Field is dedicated to providing the most exciting sponsorship experience for you through the professional management of the sponsored child's family, the teaching staff, and yourself. The following list explains the interaction you can expect from your sponsored child:
Recognition as a sponsor on our Angels web page
Scanned copies of your sponsored child's assessment reports,
Emailed photos of your sponsored child's school participation,
Up-to-date receipts for your contributions for tax deduction purposes, etc,
Monthly letters composed by the sponsored child directly to you, the sponsor
The sponsored child's family's recognition that it is you who is responsible for this child's dream coming true
Gems Field will facilitate any physical meeting you might plan between you and the child's family however, all travel and related expenses would have to be covered by you.
You won't regret it, ever!
You will never regret being a sponsor for a child at Gems Field Private School. Every penny you contribute is entirely applied to the direct learning cost of your sponsored child, there is no waste or unnecessary overhead costs involved. Your help will be forever appreciated, and will have a long term positive impact on each individual life you assist in the quest for self-empowerment for a strong, healthy future for all.
Contact us:
Phone: 065-238-440
E-mail: gemsfpschool@gmail.com
PO Box 3772 Ongwediva
back to home
Copyright © 2018 Gems Field Private School; all rights reserved